First, we have some rules, but it's just easy to do

Advertisements
First of all, the mods and admins carefully watch the advertisement on the forum, for safety of the forums and for the other users. We check every site advertised on the forum. Remember not to post any spam, or else we will ban you. If you received a spam from a certain user, please contact one of the admins.
Rude/Mean attitude etc.
This is what the users shouldn't do. It is breaking the site policy. Anything that is hateful, abusive, rude or mean or anything that may offend the users is not allowed. A user caught doing this will be warned by one of the mod, and report it to the admins.
Pixie Dust/Reputation
Pixie dust or reputation is also important, if only a user know it. However, there are rules on it. Anyone that says "Come on admins, please give us reputation" will be warned, because monthly, we gave pixie dust to users.
Anti Site Rules
Anyone that is anti site rules, or breaking the rules will be warned or might get banned, because there might be some young users, they might see other people's rude doings, and it might affect them. Also, if you said "I didn't know that's a rule. ." it seems that you are ignoring.
Illegal Bump
Illegal bump isn't allowed. Be sure to PM a mod or admin before bumping a thread.
Gallery & Personal Albums
The gallery is 100% approved hosting site. The personal album is also 100% approved hosting site. But, the administrators and graphic designers would not approve the photos that is rude, s****l or anything that is not suitable is not allowed. You can also upload your pics on hosting sites.
Signature
Signature was the one that is mostly used up among all the forum. However, users can only use the sigs that is suitable for everyone. The maximum size of sigpic is 500x300. If a sig is bigger than 500x300 makes me forum disorganized, and users will see more of the sig, not of the comments.
Max Size: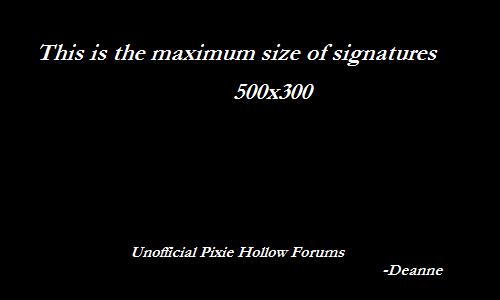 Off Topic
We allow users to discuss about off topic as long as it is suitable for everyone.
Avatars
The rules on avatars is the same as the signature's rule
Hacking
Hacking is not allowed. If a hacker hacks your account be sure to send an email to the one of our admins, we will quickly change your password so that the hacker can't harm your account.
Forcing for Award
Any users caught forcing one of the users, admins or mods will be banned for 2 days, and will receive it's warning.
Non-English
English is the only language used for this forum. Any user caught speaking in other language will receive a warning.
Chatbox Rude Messages
Chatbox was one of the mostly used up things on the forum. If you caught any users saying rude messages, copy what he/she said, PM the main admin Deanne as soon as possible.
Reporting
All of users have the rights to report a user or a post, when it's breaking the site general rules. If you receive some PM that is harassing you, be sure to contact one of the staffs, and as soon as possible, we would ban the person.
Personal Relationship Discussion
This is the rule that we maintain. Remember not to talk about Personal Relationship Discussion, cause it's like your giving your personal info, and we think that you don't have self privacy. This rule includes boy/girl friends discussion, or something that is related to your life.
Being Random
Yes all of you can be random. But remember, your randomness must be moderated